If you're on a budget, and let's face it, most of us are, you're probably remodeling your home room by room. But, there's one non-room area of your home that could really benefit from a flooring makeover – your staircase. If you have stairs in your house - whether they're tall, narrow, wide, or curvy – they can easily be turned into a beautiful statement with a little makeover.
The most substantial part of a staircase makeover is the flooring. There are four basic options for flooring your staircase, but there are endless possibilities when it comes to style.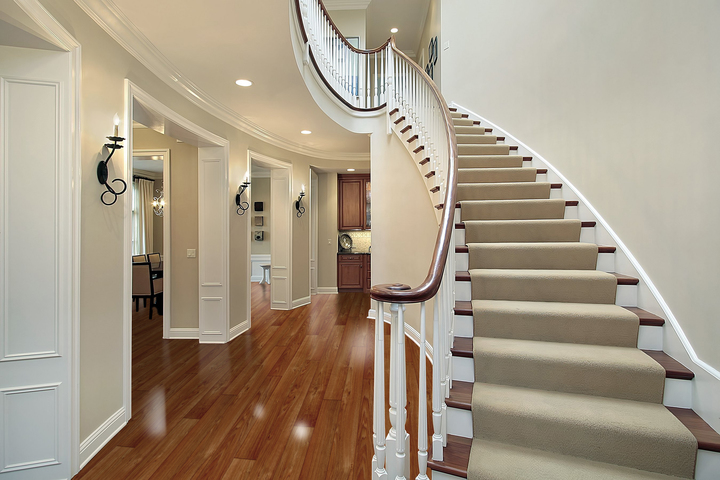 1. Carpet – Carpeted staircases are great for reducing sound and protecting little ones as they venture up the stairs, but they don't need to be boring. Patterns and textures can be used to enhance the appeal of your stairs. You can even combine two different carpets to create a border along the side. Carpeting your stairs definitely calls for a professional. Making sure patterns line up can be tricky, so this is one makeover you'll want to sit back and watch instead of doing yourself.
2. Wood or Luxury Vinyl – If you have carpet and want a different look or you just want to update your staircase, choosing a hard surface flooring product is a great option. When it comes to how to remodel stairs from carpet to wood, your first step is to get a professional measure. Because you're dealing with small pieces for both the tread and the riser, it may be difficult to calculate how much square footage you'll actually need. Wood and Luxury Vinyl staircases are simple and beautiful and highlight the architectural features of your home.
3. Wood or Luxury Vinyl with a Carpet Runner – If you already have hard surface stairs and are looking to add some softness and design, adding a runner could be just the option you're looking for. Adding a runner is one of the simpler possibilities for making over your staircase flooring and can drastically change the look of your stairs. Runners can be made by binding the edges of broadloom carpet for a custom look.
4. Tile – Tile can be a great choice for stairs because it is durable and customizable. From different colors to different sizes, tile can be installed on the entire staircase or just the riser to create an accent. Using these two options to create a staircase you love can add style and flair to the look of your home. Keep in mind; laying tile on a staircase is tricky, so it is important to remember that using a professional to install it may be your best option.
In addition to new flooring, there are other ways to remodel your staircase.
Swapping out banisters or adding a fresh coat of paint can drastically change the look of your stairs. Be sure to use durable paint for the handrails to ensure your makeover stands the test of time.
Painting the walls surrounding your staircase will help spotlight this non-room in your home. Just be cautious before taking on this project. Depending on the layout of your home, painting the stairs may lead to painting other hallways and rooms to make sure there are no awkward transitions.
Perhaps the easiest way to complete a staircase makeover is to add some décor. Photos and paintings hung along the staircase make the space feel more like a part of the home.